Industry awards
PSC is Australia's only tertiary institution specialising exclusively in photography and our industry award records speak of themselves!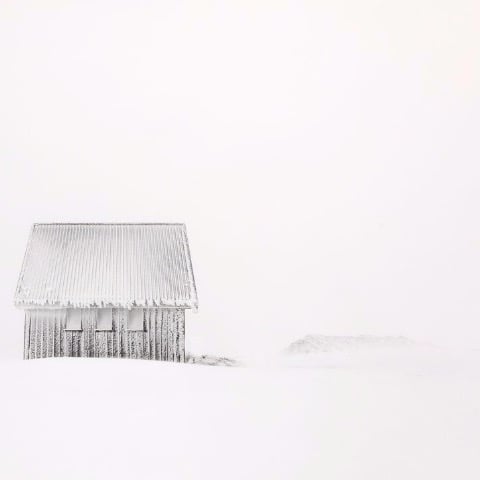 Anna Luscombe's Winning AIPP Image
PSC STUDENT ANNA LUSCOMBE WINS AIPP STUDENT OF THE YEAR 2020
PSC Student Anna Luscombe wins Student of the Year 2020 in the Australian Institute of Professional Photography (AIPP) Silver Lining Awards! She is in her final year of studying our Advanced Diploma in Photography program.
Anna's new title has catapulted her onto the radar of Australia's contemporary visual arts scene. Studying at PSC has allowed her to explore everything from artistic portraiture to landscape photography and digital imaging.
Anna has overcome many hurdles in her life including dyslexia, which a lot of her work addresses. Her AIPP winning image was taken on a cold wintery day in a remote location at the base of Mt. Buller. The photo is of a ski patrol hut, inconspicuous to most, but not Anna and her eye for beauty even in the most desolate of places.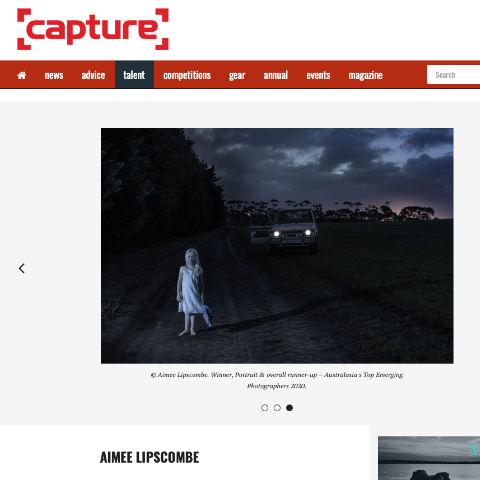 One of Aimee's Award Winning Images for Capture Magazine
PSC STUDENT AIMEE LIPSCOMBE WINS PORTRAIT AND OVERALL RUNNER UP CATEGORIES IN CAPTURE MAGAZINE'S AUSTRALIASIA'S TOP EMERGING PHOTOGRAPHERS 2020
After many years working as an online producer for ABC News, she decided to change course and study at Photography Studies College, in Melbourne. She is currently in the final year of her Part-Time Advanced Diploma in Photography. Her passion is portraiture, and her most recent work is a deeply personal exploration of her home life.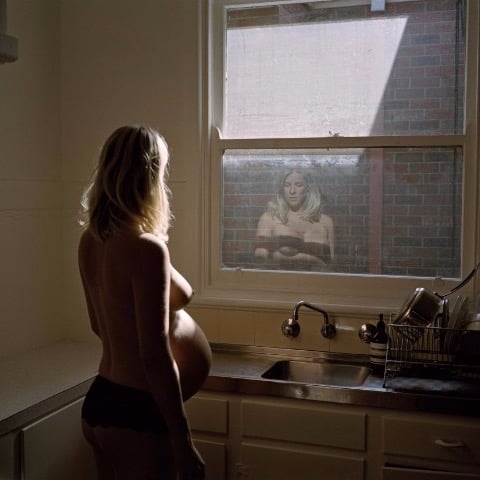 Greta In Her Kitchen, 36 weeks, 2018 by Alana Holmberg
PSC LECTURER ALANA HOLMBERG'S PORTRAIT OF HER SISTER GRETA WINS THE NATIONAL PHOTOGRAPHIC PORTRAIT PRIZE 2019
"Pregnancy carried my sister into a new chapter of her life and she welcomed it warmly. Effortlessly. Ready for things to change. We'd spent much of our late twenties debating the 'right time', if there was even such a thing, but she'd found it. This portrait is an attempt to depict the tranquillity in Greta's transition into motherhood, and her trust in the future." were Alana's accompanying words in her entry for the prize.
Alana's portrait is a simple beauty that is admirable, a true inspiration in documentary photography, and her winning is no surprise for us, out of 40 finalists that participated in the prestigious National Photographic Portrait Prize 2019.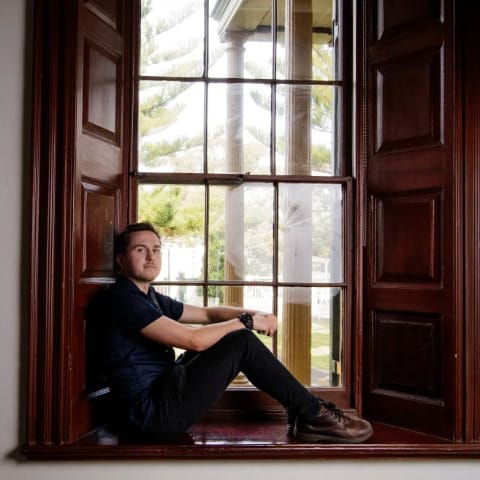 Photo: Louise Kennerley for The Sydney Morning Herald
PSC STUDENT JAMES BUGG WINS $50,000 MORAN CONTEMPORARY PHOTOGRAPHIC PRIZE.
It is with great pride that PSC announces our 2017 final year student James Bugg has been awarded the $50,000 Moran Contemporary Photographic Prize for 2018 for his portrait titled Zach.

Of James' photography, and his subject Zach, Moran Contemporary Photographic Prize judge Jon Jones had this to say, "...a beautifully observed, subtle and thought-provoking contemporary portrait. His direct gaze and awkward stance, surrounded by the discarded pots and garden ornaments that speak of a different time, offers a glimpse of Australian society rarely visible."

The portrait is part of a wider series 'The Pines' which James completed as part of his Bachelor of Photography degree, in 2017, at PSC.

PSC also congratulates current Masters student Jo Cripps, and PSC teacher and mentor Katrin Koenning for also both being selected as finalists.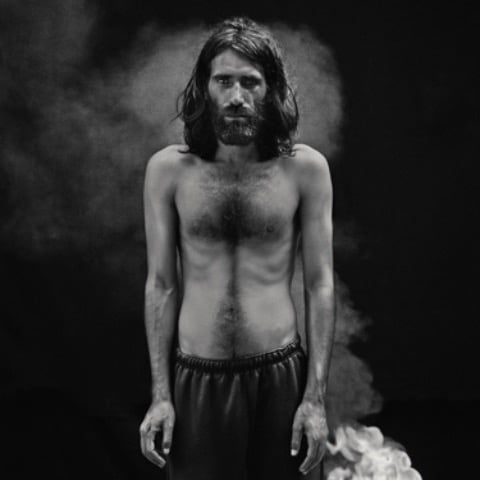 'Portrait of Behrouz Boochani, Manus Island', 2018 by Hoda Afshar
HODA AFSHAR'S PORTRAIT OF BEHROUZ BOOCHANI WINS THE 2018 BOWNESS PHOTOGRAPHY PRIZE
PSC lecturer, Hoda Afshar, wins the Bowness Photography Prize with her photograph of Behrouz Boochani, taken on Manus Island in 2018. This is a huge achievement for her as an artist but also for the message that her work delivers, beyond her own career aspirations, as she stated upon winning the prize. We are really proud to have witnessed this important recognition for Hoda and her work.
'Winning the Bowness Photography Prize with this portrait of Behrouz Boochani is not only a glorious moment in my career as an artist, but also a confirmation of the trust that I have always placed in the power of art to change the world through changing the way we see it. The Bowness Prize is a record of our current times, as seen through the lens of a group of unique visionaries. The selection of works on display every year shows us what is at stake, and receiving this award is for me a testament to the fact that what is at stake today is our humanity. I hope that winning this prize will contribute, in some way, to redrawing the lines that divide us and those who have been placed outside the safe borders of our human community.' – Hoda Afshar, 2018 Bowness Photogrpahy Prize recipient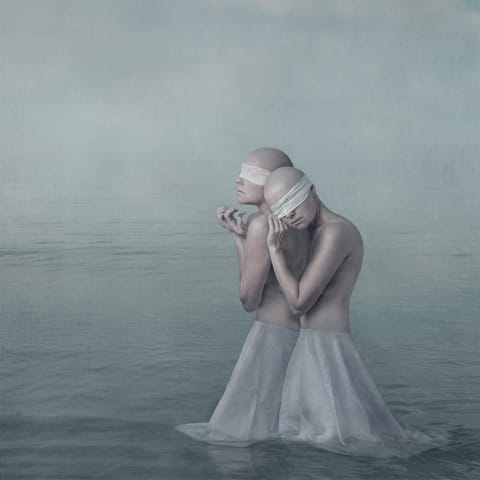 Agata Mayes
PSC STUDENT WINS 2018 AIPP VICTORIAN EMERGING PHOTOGRAPHER OF THE YEAR!
Agata Mayes, a final year Advanced Diploma student swept up the 'AIPP 2018 Emerging Photographer of the Year' category with a series of emotive and surreal images. Agata's photography explores the fragility of the human condition with sensitivity and she draws inspiration from classical painting and music to create her mystical and inspiring images.

The prestigious Australian Institute of Professional Photography (AIPP) Victorian Professional Photography Awards sponsored by Epson, were held at Eleven40 Studio and Gallery in Melbourne in April 2018.

Over 900 entries were received in 16 categories, with the standards exceptionally high this year and the awards fiercely coveted.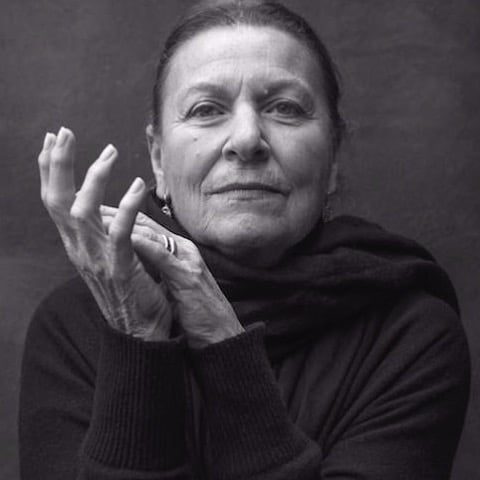 Elli Bardas, photograph of Vicki Vodor
ELLI BARDAS WINS THE INAUGURAL MARTIN KANTOR PORTRAIT PRIZE AT THE BALLARAT INTERNATIONAL FOTO BIENNALE 2017
Advanced Diploma of Photography student Elli Bardas won the inaugural Martin Kantor Portrait Prize!! She succeeded with her image of her aunt Vicki Vidor; a board member at the Lighthouse Foundation. Elli's image was originally created for her second-year assignment, printed by our wonderful print master Peter Hatzipavlis. Elli has won the $15,000 cash prize,the Ballarat International Foto Biennale acquisitive award saw more than 150 other entries and 27 other finalists.
Judge Naomi Cass said, "This portrait stands within a tradition of black and white portraiture, maybe reminiscent of 1960s, and as the sitter leans toward us we are invited in. The subject is a mature and beautiful woman and we can see in this open face something of an inner light, perhaps life well lived, and her hands are active hands that have lived and worked."
Congratulations again to Elli for this beautiful achievement.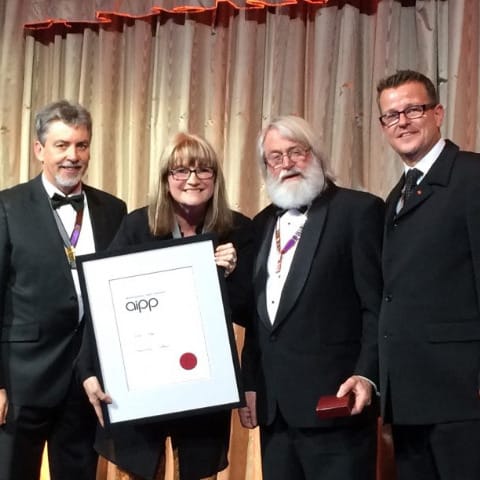 Managing Director Julie Moss receives the AIPP Honorary Fellow award
AUSTRALIA'S NO 1 PHOTOGRAPHY COLLEGE FOR SIX CONSECUTIVE YEARS
Photography Studies College (Melbourne) has been awarded the major award for excellence in photographic education for six consecutive years.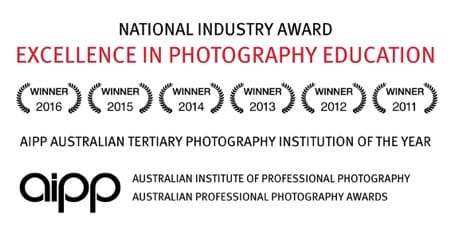 Julie Moss, Managing Director of PSC was acknowledged on the night for her over 30 years of outstanding achievements in photography and photography education with the prestigious AIPP Honorary Fellow award.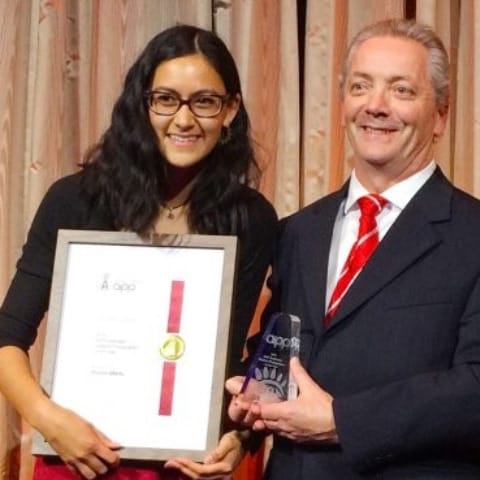 Tayla Nuss-Soeharto
2016 –AUSTRALIA'S NO 1 PHOTOGRAPHY COLLEGE & AUSTRALIAN PHOTOGRAPHY STUDENT OF THE YEAR
The 2016 Australian Institute of Professional Photography Australian (AIPP) 'Tertiary Photography Institution of the Year' was awarded to PSC.
PSC's final year Bachelor of Photography Student, Tayla Nuss-Soeharto took out the prestigious '2016 AIPP Australian Photography Student of the Year' Award.