The photography industry says PSC is Australia's best photography college.
PSC is the leading Australian photography educator having been acknowledged by the photography industry, winning a number of top national awards for educational excellence, since 2011!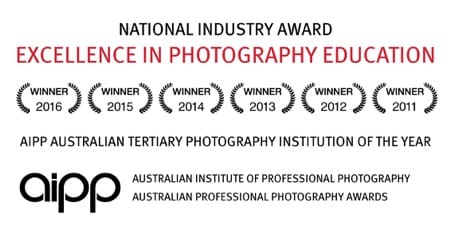 Runner up (AIPP) Australian Tertiary Institute of the Year 2017
PSC students have regular contact with industry professionals throughout their course and particularly in their final year through our well-established mentor program, industry events and guest speakers. An integral part of our leading role as a centre for photographic education, is hosting and sponsoring a number of major industry events.
Check out the PSC Blog for an updates on creative work and recent industry guests.
The annual PSC graduation is always strongly supported by industry and our regular award sponsors include: The Australian Institute of Professional Photography (AIPP), Adobe, Sun Studios, Borge's Imaging, Kayell, Irwin & McLaren and Sally Brownbill. Check out our latest award winners.
Our courses are recognised by Australia's peak industry body the AIPP and our graduates are eligible to apply for membership of the following professional bodies:
MEAA / Media, Entertainment and Arts Alliance
NAVA / National Association of Visual Arts
---

International partnerships
PSC is a partner with the Obscura Photography Festival, Malaysia's premiere photography festival that celebrates photography from Asia and around the globe. Each year, the festival hosts a series of exhibitions, talks, workshops, professional portfolio reviews and slideshows. Also included are major fringe events, including youth photography programmes with its festival partners.
For the past four years students have benefited from their involvement and attendance at the festival.


PSC is the only Australian member of the Society for Photographic Education (SPE) the US based non-profit membership organisation that provides international networks for photographic education and colleges. Being a member of SPE ensures PSC is a part of a thriving global network of photographers, artists, scholars, educators, students, museum professionals, writers, and critics.


Ueda College of Fashion is Japan's leading fashion college based in Umeda, Osaka, Japan. The College opened in 1941 and since then has developed professionals at the top of the fashion world. Ueda College features its own unique curriculum that was developed in a manner a based on its traditions and achievements, excellent teachers and facilities.
---
In June 2017 the chief executives of PSC and Ueda College of Fashion signed a 3 year agreement to promote education and academic exchanges between the two institutions. Joint activity has focused on exploring opportunities for benchmarking between the two globally oriented creative educational organisations, and the development of a three year course for Japanese students in Fashion Styling that will see third year Japanese students attend PSC for a semester of photographic study and practice.