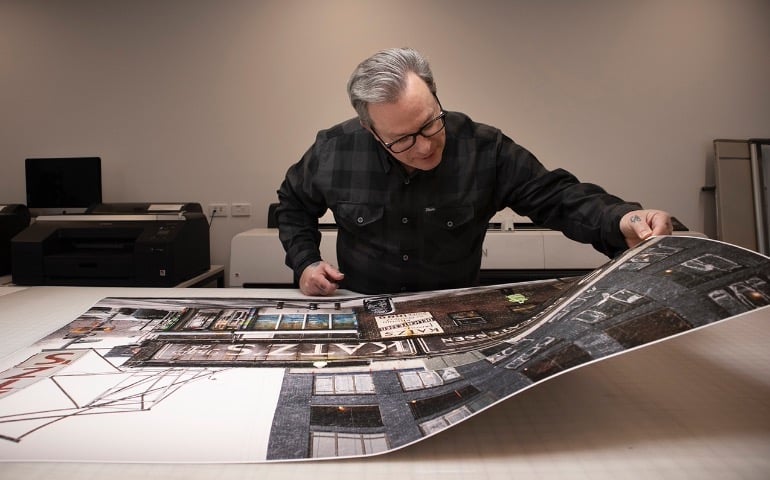 Established in 2011 The PrintShop @ PSC has grown to be the finest specialised art printing business in Melbourne, and Australia. Photography Studies College (PSC) is Australia's leading independent photographic education institution, and The PrintShop @ PSC is an integral part of the PSC professional environment. We pride ourselves on offering the best service to professional photographers, artists and imagemakers.
CONTACT US:
Email: print@psc.edu.au
Tel: +613 9682 3191


About us
The PrintShop has collaborated with some of Australia's leading contemporary photographers for major national and international exhibitions. ThePrintShop staff work closely with each client to ensure your creative goals are realised and your images are of outstanding quality.
The PrintShop has worked with Australia's leading photographers: Katrin Koenning, Hoda Afshar, RONE, Christopher Koller, Jo Scicluna, Sonia Leber, Ross Coulter, Sanja Pahoki, Peter Clarke and Katie Breckon to name a few.
The PrintShop's work has been shown at Paris Photo, the National Gallery of Victoria, Adelaide Biennale (ACE), Centre for Contemporary Photography, Horsham Regional Art Gallery, Perth Centre for Photography, Head On Photo Festival, Ballarat Foto Biennale and many more insitutations and galleries.
Our services
We use the most up-to-date pigment printing technology, combined with beautiful fine art photographic papers, to deliver exhibition quality prints to be proud of.
Our well equipped facility, includes the latest generation pigmented ink printer - Epson's Surecolor 20070 64" along with the 44" Epson SureColor P9560 and numerous flat sheet desktop printers. We push the boundaries of what can be achieved digitally and love to work with non-traditional media.
Recognised for our uncompromising level adherence to exacting production and quality control standards, The PrintShop@PSC is part of both the Ilford and Canson Certified Master programs.


Consultation and collaboration
The PrintShop@PSC can help you maximise the potential of your artwork through our consultation service. The PrintShop can provide in-depth printing knowledge including digital and film-based processes, file preparation, image processing, and colour management. The PrintShop Staff will work with you every step of the way.
Imaging
We are qualified artists who speak the artist's language for both and fine art and commercial applications. We are conversant with image editing, colour corrections/grading, image optimisation for offset printing, retouching, compositing, illustration, enhancement, and digital support for photographers, plus prepress proofing.
High resolution scanning
For those working with film, or digitising their archives we offer a high end film scanning service. All original transparencies, negatives, and reflective materials are digitised by our high-end Flextight 848 virtual drum scanner.
High quality scanning requires more than expensive technology, it is a technical art form in itself. It requires expertise in the most effective scanning techniques. With over 15 years of scanning experience will ensure the finest photographic detail is captured and reproduced faithfully